A Detailed Alicante Beach View To Torrevieja Along The Southern Costa Blanca
There are plenty of beautiful Costa Blanca beaches to choose from while you are on holiday around here. Lets look at my favourite beach at the southern Costa Blanca.
From Alicante beach down to Torrevieja beaches a wealth of fine white sandy beaches can be found, many of which carry European blue flags for superior cleanliness and amenities available for all the family to enjoy.
Beach of San Juan de Alicante
The longest and widest beach in Alicante is the Playa of San Juan de Alicante, which sits to the North of the city and is one of the owners of a blue flag. It is an impressive 7km long and extremely wide which means that even in the height of summer it's always possible to find a nice place to sit and sunbathe. The seafront houses many restaurants, bars and cafes. There is plenty of car parking and other services included disabled access, toilets, watchtowers, a Red Cross post and tourist information.This beach can be reached easily via a short tram (=streetcar) or bus ride (number 21 or 22) from the center of Alicante and is a haven for wind surfers and other water sports enthusiasts which can be enjoyed from right there on the beach.
Alicante's Postiquet Beach
There are many other beaches however in Alicante the most notable of which are the urban beach of Postiquet ( just behind the Melia Hotel in Alicante) which sits at the foot of the impressive Benacantil mountain which houses the Santa Barabara Castle in Alicante (see video) . Shadowed by a palm tree lined promenade, the beach has also received a blue flag and has a lifeguard and patrol service available through Easter, from 15th June to 15th October and at the weekends from October to the end of the year. There is disabled access on this beach and a tourist information point. There are several bus routes that pass this beach including number 2, 5, 21 and 22 as well of course as by the tram which stops at both ends of the beach.
Albufereta beach in Alicante needs mentioning here also. The beach is named after a lake with its own harbour that once existed there and indeed from which the buzzing metropolis of Alicante sprang from. This beach is popular for its fishing and is sheltered allowing for excellent water sports and swimming. There are beach patrol and lifeguard services available throughout the busy summer season and through Holy Week as well as a Red Cross post, watchtower, foot showers, toilets and plenty of parking. You should take the A-190 or alternatively buses 9, 21 and 22 and the tram all stop here.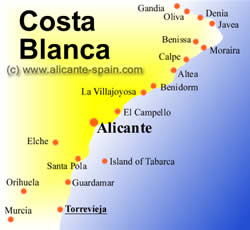 The white fine sand curls continuously along the coast and is only interrupted by a rugged stretch around the Coves of Cabo De La Huertas. These rocky inlets such as los Cantarales, Palmera and Los Judios are very beautiful and diving is possible from most of the coves, particularly the rockier ones. Due to their relative remoteness the largest concentration of nudist beaches can be found here.
Saladares Beach known as Urbanova beach is situated at the Southern most part of Alicante. It is not well known to foreigners so can be quieter than the other beaches in the area. It is very near El Altet Alicante airport and originally gained its official name from salt plains that used to exist nearby. It is part of a residential area known as Urbanova, which has since become the more popular name given to the beach by the locals. Sun worshipers can enjoy spectacular views of the Bay of Alicante from this beach. It also has a blue flag and has a patrol and lifeguard service during Easter and the simmer also. There are toilets, foot shower and plenty of parking for cars. Alternatively use bus number 27 to get there.
Beach at Tabarca Island of the Costa Blanca Coast
A popular day trip is the Isle of Tabarca which is a small island encased by beautiful sandy beaches. Scuba divers will enjoy a trip underwater around this island with plenty to see and enjoy.
Further south of Alicante the beaches continue along the Orihuela coast. Punta Prima is pretty but is located near a busy road, La Zenja and Playa Flamenca are also popular tourist retreats.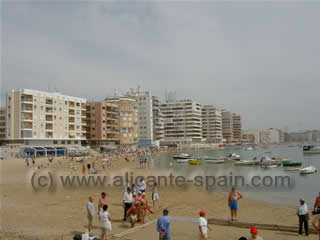 Heading yet further south through the Costa Blanca, the town of Torrevieja has several beaches, 4 of which also hold blue flags. La Mata and Los Locos are sandy beaches with popular promenades lining them both. La Mata is 2,500m long and consists of fine white sand dotted with palms. There are lifeguards during the busy months and numerous restaurants and bars as well as toilets, a red cross post and water sports. La Mata even provides a spa and mud bath for that extra bit of relaxation. La Playa do los Locos is extremely popular due to it range of facilities and services such as a water tube, paragliding, windsurfing, water cycles and of course the usual host of lifeguards and watchtowers that is usual in the Spanish tourist coastal resorts. It can become quite busy however.
Within the center of Torrevieja is Cura beach that has plenty of bars and restaurants as well as toilets and a lovely children's' play area, making it an ideal spot for a family day out at the beach. Naufragos Beach has stunning white coloured sand with crystal clear waters. The main hub of the activities and services are located approximately 1km away from the beach at the marine international.
Further top Spain beaches around northern Costa Blanca with detailed descriptions can be found here .