Benidorm is a particularly popular tourist destination, it's fun and comfortable. The Flamingo Oasis Hotel is an ideal hotel for you to stay in.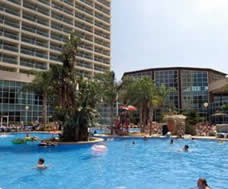 The flamingo oasis hotel is located in Benidorm which is a very popular location for tourists, there are lots of different services which are useful for tourists of many different nationalities. Benidorm itself is a fairly modern city with lots of skyscrapers. It runs alongside the Mediterranean coast line which means it benefits from extremely good weather. Benidorm experiences reasonable temperatures all year round.
The hotel itself has 398 rooms all of which with air-conditioning and a well equipped en-suite bathroom. There are lots of different facilities provided at this hotel which can make your stay as comfortable as possible.
On the 25th floor there is a truly amazing terrace bar which has a breathtaking view of the city, I could of spent my whole holiday up there! But unfortunately there are lots of other things to do, there are activities which are suitable for the whole family. Including entertainment shows which are suitable for people of all ages.
The swimming pool is heated which means you can use it all year round, it's large which means you can actually use it for swimming rather than just splashing! There is also a well equipped Gym, and sauna facilities. If you're looking for a way to relax then you should check out the Jacuzzi and possibly get a massage.
You could spend all your time in the hotel complex and never go out, it really does have everything that you need. There is even a hairdressers in the hotel! ( find out availability and pricing for the Benidorm Flamingo Oasis Hotel here… ) To get to the hotel most people fly into Alicante airport, from there you will find it easiest if you get a taxi to the hotel. You can check in to the hotel from 12:00 until 13:00. When leaving the hotel you must check out by 11:00, otherwise you may be charged an extra day.
The hotel is cleaned on a daily basis and there isn't even a small spot of dirt to be seen anywhere! All of the rooms are cleaned daily by very dedicated maids, who are always polite and pleased to see you. If you're still in bed when they come around then don't worry as they will come back later.
There is plenty of food to choose from, and it is all well cooked and nicely prepared. There is something that absolutely everyone will like. The food is well presented and looks very appetizing.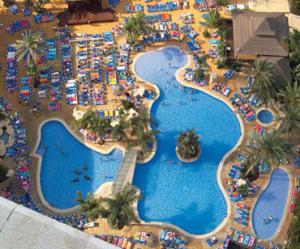 There's lots of different activities that everyone can do at the hotel. You can use the internet, either in your room or using their computers, you can go to the gym, or you can just relax by lounging around outside by the pool! There's an indoor and outdoor pool, both of which are suitable for adults and children.
The best part about the hotel is that the beach is only a very short stroll away, being able to walk to the beach is wonderful! You can get there before all the other tourists invade, and claim your spot with your towel!