The Altea Hills resort is located in a natural reserve which is stunningly beautiful.
It is a Mediterranean style hotel which has a fantastic decked area overlooking the bay of Altea. Altea itself is a beautiful village with very narrow and winding white streets, this is only 3km away from the hotel.
The Altea Hills is without a doubt one of the best hotels in all of the Costa Blanca. If you're into golf then you can get to Don Cayo golf course which is under 3km away. Luis Campomanes Marina is also only 2km away.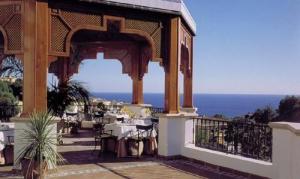 The hotel ( you can find out pricing and Availability here ) has 1 presidential suite, 50 junior suites and 54 deluxe double rooms. Many of the rooms have a large terrace area with stunning views of the sea and mountains. The rooms have a private bathroom which has a telephone and hair dryer inside. All rooms are air conditioned, and have satellite TV and pay per view TV. Rooms have a direct dial telephone and wireless internet connection. Rooms have access to the internet through a wireless network connection and all have a safe.
The restaurant Altaya serves both local and international food, there is also a cafeteria serving a similar menu and a tropical themed bar which is only open during the peak season.
The hotel has 3 large swimming pools which are themed to look like lakes, they're amazing! There is also a reasonable sized indoor pool. If you are feeling more adventurous then you might like to try your hand at a game of tennis on one of the 4 outdoor courts the hotel has. There is even a squash court and gym at this hotel. The gym holds aerobics classes and has access to a whirlpool and sauna.
The spa centre offers professional treatments including massages, fitness workouts and many more! If all that isn't your cup of tea then you might be interested in the Games room or just the TV room!
You can check into your room from 4pm onwards at this hotel, and you should check out by 12 noon on the day of departure.
The hotel is well situated for access to many of the popular tourist attractions including Javea, Benidorm, the Caves of Canalobre, Gata de Gorgos, the Yacht Club Campomanes, the Waterfall Fuentes de Algar, and it is within easy reach of Benidorm.
The hotel also has business facilities such as the Gran Salon Altea which is a 550m squared room which can be used for conferences. This can be divided up into three smaller rooms if required. Translation is available if required. You also have access to flip charts, platforms, lecterns, stationary and sweets for free.
The hotel benefits from amazing views overlooking the hills, you can see a forest from most rooms and then just past that you may be able to see the sea.
All of the staff in this hotel are very helpful and everyone is extremely friendly. People just can't seem to do enough to please you here!