TRAM Streetcar / Narrow Gauge Railway to Benidorm and Denia

First of all please allow me to to clarify a couple of things regarding the Alicante Tram train:
The Train is called TRAM for "Tramvia" or like we would call it a Streetcar train.
The TRAM train has nothing to do with the state owned RENFE train system and does NOT leave from the RENFE train station in downtown Alicante. (Don't go to Alicante train station – "estacion de trenes" NO!)
Additionally it is important to know if you are arriving at Alicante airport, that there is no train station for this or any other train at the Airport of Alicante! (As of today June 2011 ) – they had planned one some time ago, but they never got there planning right – so do not look for one.
You can use the narrow gauge railway to Benidorm and Denia also for your trip to Altea, Calpe and Teulada.
Where to get on the Tram train
The easiest way is to take the Tram at the FGV Tram streetcar station at Plaza Puerta del Mar, located in the beautiful harbor area of Alicante. From the airport in Alicante you can easily and directly go there using the C6 Alicante airport bus.
At the end of the bus ride (after about 45 minutes) is the bus stop Puerta de Mar.
It is the last bus stop – the bus driver will wake you up anyway if you fall asleep as I usually do on those kind of buses.
Your Trip would look like this: Alicante Airport -> Airport Bus C6 to Alicante Streetcar Station "Puerta del Mar" -> Take Alicante Streetcar TRAM to Benidorm, Altea, Calpe, Benissa, Teulada, Gata or Denia.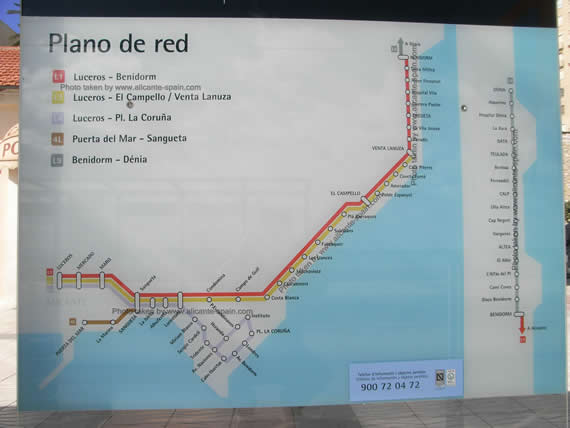 As you can see on the detailed route map to Denia Benidorm and Calpe (just click on the map) , the Tram stops in many cities, town and villages along the coastline.
Does it sound like a long journey?
Well it is up to you to decide. Here are a couple examples to give you a "Alicante to Denia Calpe Benidorm Train Travel Time Idea" how long the Tram trip might take you:
Destinations Travel Time with Tram Streetcar
Travel Time (approx.)
Alicante to Benidorm
1 hour 20 minutes
Alicante to Altea
1 hour 50 minutes
Alicante to Calpe
2 hours 30 minutes
Alicante to Denia
3 hours 10 minutes
( Please note: Travel times are estimates depending on connections and average waiting time between Tram line changes. )
The train stops at the following towns/villages on its way to Denia:
Albufereta, El Campello, Vila Joiosa, Benidorm, Altea, Calpe, Benissa, Teulada, Gata (further cities – please click on the timetables below to see it in more detail)
Ticket Pricing TRAM Train to Benidorm and Denia
This leads to the following ticket pricing to Benidorm or Denia:
First you might need a Tram Ticket for Zone A downtown Alicante, which is EUR 1,15 . In addition you will need an FGV train ticket, depending which zone are you going.
Examples ( updated 2011 ) :
One way ticket to Benidorm: EUR 3,35
Return ticket to Benidorm: EUR 5,70
One way ticket to Denia: EUR 6,55
Return ticket to Denia: EUR 11,15
Timetable Alicante to Benidorm and Denia

Timetable Denia and Benidorm to Alicante

Summary:
Getting To Benidorm or other cities around the Costa Blanca by TRAM, is a wonderful way to enjoy the beautiful landscape along the coast. Since the train stops at very many towns and cities on its way north, travelling by TRAM takes its time. For a simple "airport to hotel" transfer, I would advice against it and instead use direct bus services from Alicante airport where possible.
Further Reading:
>> Details on the Alicante Tram Streetcar Downtown Alicante Routes
>> Site of the FGValicante